European Delivery
Now you can enjoy customer savings on a wide-range of models for European Delivery purchases.*
Few things compare to the thrill of driving your new Mercedes-Benz out of the factory. With European Delivery, you design and begin the ordering process for your Mercedes-Benz online, pick it up at our factory in Sindelfingen, Germany, and then enjoy an enthralling driving tour of Europe. Learn all about European Delivery...then go ahead and select your new Mercedes-Benz.
What's Included
---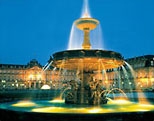 The Standard European Delivery Package:
With the Standard Package, you'll enjoy a one night stay for one or two people at your choice of selected hotels. Also included is breakfast or lunch for one or two people at the Sindelfingen factory restaurant.

Cruise the scenic countryside in your brand new Mercedes-Benz, and bask in luxury and Old World ambience in your choice of 12 exquisite hotels throughout Germany, Austria, France and Switzerland.
---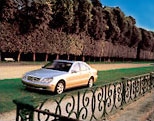 Black Forest-Alps Rally Package:
The Black Forest-Alps Rally Package combines your complimentary night's accommodations with four additional nights† along with an exciting self-guided "rally" that takes you from our factory into the Black Forest and then into the Austrian Alps, where the Arlberg Pass will bring you close to Innsbruck. From there, you'll head north to scenic Munich. The package price is $1,300 per couple.†
---
Since 1965, over 100,000 U.S. Mercedes-Benz owners have acquired their vehicles through European Delivery. It's a grand adventure...and a great value. Enjoy Europe at your own pace, in your own new Mercedes-Benz.

To ensure you get the model and all the options you truly desire, complete your order through Mercedes-Benz of New Orleans at least four months before you plan to travel. With three weeks' notice, we can often accommodate short-notice orders. (However, model and option selection may be limited.)

Please call and ask for SALES at 504-456-3727 for more information on Mercedes-Benz European Delivery.
---
*We reserve the right to make changes without notice, including (without limitation) specifications, colors, options and prices, and to change or discontinue models. We do not guarantee the accuracy of the information on this Web site. European Delivery is available for specific models with savings off the Mercedes-Benz USA manufacturer's suggested retail prices. All EDP Prices exclude taxes, title/documentary fees, registration, tags, Mercedes-Benz Dealer prep, labor and installation charges, insurance, optional equipment and accessories, certificate of compliance and non-compliance fees, and finance charges..

†Maximum two nights at the same hotel, subject to availability. Hotel substitutions are not permitted.

††Price subject to change.